If your top priority is a comfortable ride, then it's important to consider all of the ways in which a bike can deliver comfort for you. Options for increasing rider comfort include:
Choice of saddle
Choice of suspension
Suspension seat post
Hand grips
A throttle that powers the bike independently from your legs
Custom fitting of the bike to you and your preferred riding position
Choice of saddle
There are a wide range of saddle shapes, sizes, materials and of course prices. Knowing that the typical customer for MeloYelo ebikes is over 60 years old, we have chosen a comfort gel saddle as our standard option.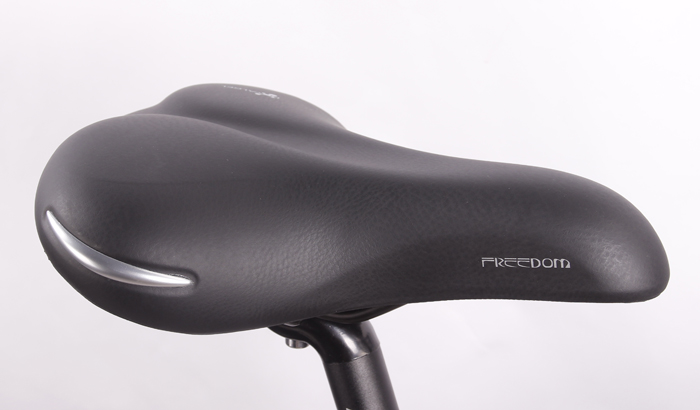 Of course if you already have a preferred saddle, or wish to explore other options, we are happy to address your needs.
Choice of suspension
There are many different aspects to "suspension." These include:
Suspension built into the saddle itself
Suspension seat posts
Suspension forks
Full suspension frames
Sprung saddles
One of the least expensive ways to give your butt greater comfort is through a sprung saddle, such as the Velo saddle shown below.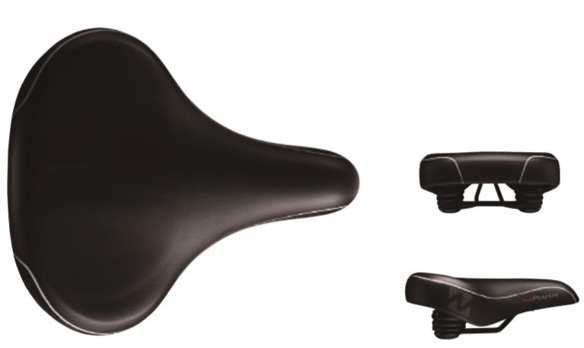 Suspension seat posts
Suspension seat posts are sprung to absorb some of the shock from riding over bumps. Again, this can be an inexpensive way of adding comfort to your ride. There are a number of different makes and models of suspension seat post. A relatively inexpensive ($69) option is shown below. The thinner post is sprung so that it moves up and down as you ride over bumps.

A more sophisticated solution is the Suntour SP12 NCX seat post, shown below. The unique and patented parallelogram design allows for smooth small bump compliance with a total of 50mm travel to make for a smooth ride. Comfort, low maintenance and long term durability is what this post is all about. There are many other seat post options on the market but none offer the adjust-ability and smooth action of this one.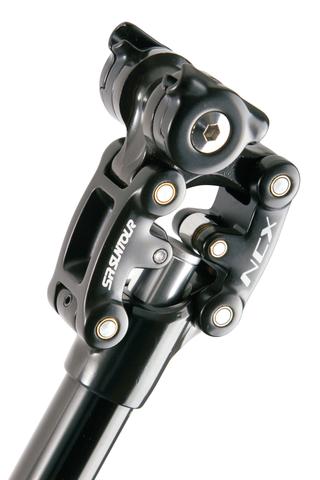 Suspension forks.
There are not only a wide variety of suspension fork absorber brands (some of the more well known include Suntour, Rockshox and SRAM), but each of brand offers a variety of different models. At MeloYelo we have standardised on Suntour suspension forks because they are a well known brand, offer a proven reliable product, and offer a variety of different models to suit different applications. The forks we put on our city bikes are different from the forks we put on our mountain bikes for example.
Full suspension frames.
In the past, the primary customer for full suspension bikes has been the serious mountain bike rider, for whom full suspension delivers better handling. Recently however, more and more older couples who are getting out and riding back country trails have been buying full suspension bikes.
My personal view is that the comfort needs of most older riders can be satisfied through the choice of saddle, seat post and suspension forks, all of which are much less expensive options than a full suspension bike.
Hand grips
It took me a few years of owning a mountain bike before I realised that the grips that came with the bike were most uncomfortable, and that there were far more comfortable options out there. At MeloYelo we have chosen Velo triple density lock on grips. They are very easy on your hands, ergonomically shaped, and because they lock onto your handlebars with an adjustable clamp, they won't move once you've got them in your preferred position.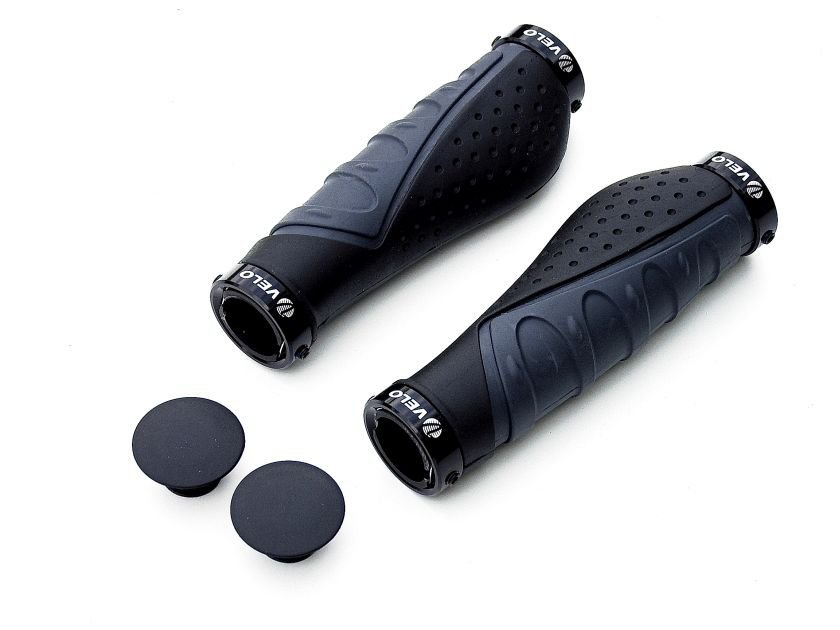 A throttle.
I can't tell you how many MeloYelo customers have commented on our thumb throttle. First of all, many bikes don't offer this option. And even if they do, they are unlikely to have programmed the throttle in the way that we have. With our thumb throttle, you get full power from the motor regardless of which pedal assist level you are in. Let me explain. Most ebikes have somewhere between 3 and 5 levels of pedal assist. In level 1, the motor will boost your legs by around 30%, in level 5 by around 300%. On most bikes that have a thumb throttle, if you are in level 1 of pedal assist, then pushing the throttle will give you about a 30% boost. On MeloYelo ebikes, pushing the thumb throttle will give you the full 300% motor boost, regardless of which pedal assist level you're in. In other words, you've got full power at your fingertips, at all times.
Custom fitting
Last but certainly not least, an absolute must to get the most comfortable ride possible is to have your bike custom-fitted at the time of purchase. This means:
Setting the seat height correctly;
Making sure that all quick release levers are tight enough, but not too tight;
Making sure the saddle is straight;
Adjusting the handlebars. With our adjustable stems there are lots of options to adjust height and rotation;
Rotating the grips to the most comfortable position;
Sliding the seat forward or back to its most comfortable position;
Adjusting the brake levers to their most comfortable position;
Adjusting the gear shifter to its most comfortable position;
Adjusting the electric controls so that they are in the preferred position for you.