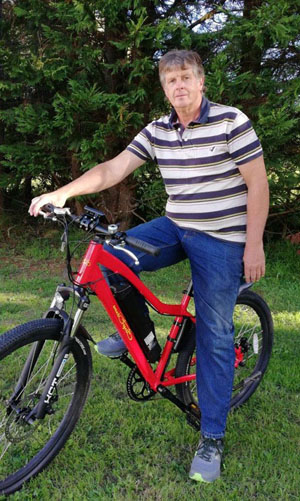 Meet Dave Rumsey
Dave is a qualified mechanical engineer with extensive electrical experience, and is a Registered Electrical Service Technician.  He is interested in energy efficiency and electric vehicles, being the first in Otaki to own an electric car.
"As a keen mountain biker for many years, I have learned to build and maintain bicycles. Shortly after retiring, I bought a MeloYelo electric bike for my wife. Impressed by the bikes and the value they offer, and enjoying the improvement to our lifestyle the electric bike has brought, I decided to become a dealer for MeloYelo so I can bring the same value and enjoyment to others. I am also a mentor to Otaki College on their EVolocity electric vehicle programme and it's great to know that every MeloYelo bike sold supports this valuable engineering & electric vehicle education programme in schools."
MeloYelo EBikes Otaki
MeloYelo's kiwi e-bike engineers are focused on building you the best bike your budget can buy – whether you're an urban biker, a trail rider, or both.
Every component on your MeloYelo bike has been selected in New Zealand to meet our unique conditions, meaning you get the most appropriate suspension, power, gear and brake systems from the best manufacturers in the world. And, no saddle is more comfortable than our new sprung memory foam saddle.
The end result of our research, design and engineering know-how is an e-bike you'll be mad about – powerful, reliable and comfortable.
Your MeloYelo bike doesn't just help the environment by saving fuel and emissions, your purchase also helps fund the EVolocity programme in NZ high schools in which teams of students are challenged to design, build and compete in electric vehicles.
We are madly committed to putting you on the best bike you'll find for your money. And, madly committed to your total satisfaction.
NOTE: I work out of my garage at home so please call for an appointment: 021 103 0799