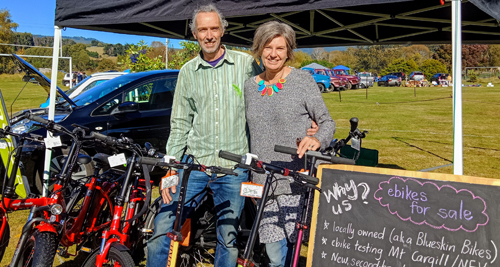 Meet Nathan and Katie
Nathan and Katie have been cycling together for 35 years but after moving to hilly Dunedin quickly found their cycling adventures were becoming limited to the occasional rail trail weekend. Since establishing Dunedin Electric Bikes five years ago they have become avid cyclists once again.
Dunedin Electric Bikes is based in the Valley Community Workspace, a community of co-workers including electrical engineers, bike mechanics and battery technicians that support research and practice in low-carbon and sustainable technologies. The workshop is situated in a quiet no exit street in North East Valley and is the perfect venue for trialling an ebike with adjoining cycle lanes and steep streets handy.
"We seem to have become the local one-stop shop for all things ebike, etrike and escooter in Dunedin.  We love running a business that supports environmental positivity, physical health and brings joy to customers."
MeloYelo's kiwi e-bike engineers are focused on building you the best bike your budget can buy – whether you're an urban biker, a trail rider, or both.
Every component on your MeloYelo bike has been selected in New Zealand to meet our unique conditions, meaning you get the most appropriate suspension, power, gear and brake systems from the best manufacturers in the world. And, no saddle is more comfortable than our new sprung memory foam saddle.
The end result of our research, design and engineering know-how is an e-bike you'll be mad about – powerful, reliable and comfortable.
Your MeloYelo bike doesn't just help the environment by saving fuel and emissions, your purchase also helps fund the EVolocity programme in NZ high schools in which teams of students are challenged to design, build and compete in electric vehicles.
We are madly committed to putting you on the best bike you'll find for your money. And, madly committed to your total satisfaction.