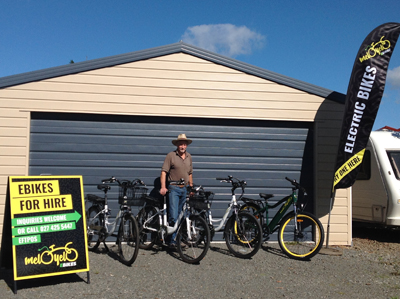 Meet Tony Ward
Tony has always had a keen interest in electronics and anything mechanical, so when investigating ebikes for hire and sale discovered the Meloyelo brand and saw a great opportunity to become involved.
"Being based in Te Awanga between Napier and Hastings with wineries and bikes trails nearby makes this an excellent location to run the business. Give me a call to hire or buy."
MeloYelo's kiwi e-bike engineers are focused on building you the best bike your budget can buy – whether you're an urban biker, a trail rider, or both.
Every component on your MeloYelo bike has been selected in New Zealand to meet our unique conditions, meaning you get the most appropriate suspension, power, gear and brake systems from the best manufacturers in the world. And, no saddle is more comfortable than our new sprung memory foam saddle.
The end result of our research, design and engineering know-how is an e-bike you'll be mad about – powerful, reliable and comfortable.
Your MeloYelo bike doesn't just help the environment by saving fuel and emissions, your purchase also helps fund the EVolocity programme in NZ high schools in which teams of students are challenged to design, build and compete in electric vehicles.
We are madly committed to putting you on the best bike you'll find for your money. And, madly committed to your total satisfaction.